Virtual Project – BIM Project Certification Training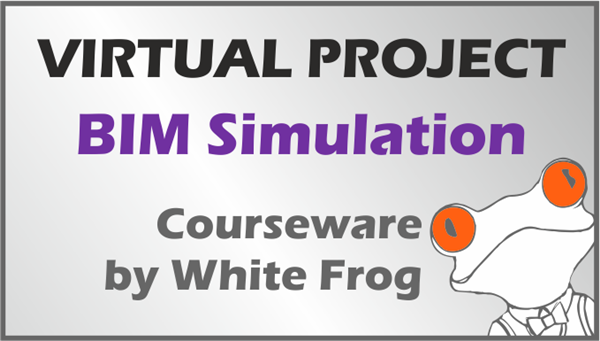 Please note: The delegate eBook does not contain the complete White Frog Training resources – if you are interested in purchasing training resources please see our eTeach or eTrain products which include a complimentary delegate eBook, alternatively for further information please contact 0113 253 2171
Course Aim
This easy-to-follow course is designed specifically to aid those in a position of management within the Architectural, Engineering, Construction and Operation sectors (AECO) sectors or members of a project team tasked with producing deliverables along Building Information Modelling (BIM) principles. The content has been fully reworked and updated to incorporate the requirements of the new international ISO 19650 standards and compliance with BIM Stage 2 maturity as detailed within those standards. The intention is to understand BIM from different stakeholder perspectives, rather than a single, blinkered approach; to realise how data can and should be structured to maximise usage; to explore what the data can do if collated and presented in a collaborative way. This course uses a combination of theory, workshop, and hands-on exercises to explore and understand the relevant national and international standards as well as market best practice. The course contains helpful tips and tricks and will be an invaluable reminder of the topics covered in your learning and a source of reference for years to come.
Virtual Project – BIM Project Certification Training (3 days)



Module 0.1

What is BIM?






Module 0.2

Case Study Examples






Module 1.1

Introducing the CDE






Module 1.2

The Project Design Brief






Module 1.3

EIRs, AIRs and the NBS BIM Toolkit






Module 1.4

The BIM Execution Plan






Module 1.5

Client Information Exchange – Introducing COBie

COBie Data Drop at Stage 1






Module 1.6

Security-Minded BIM






Module 2.1

Design Concept (Mass) Modelling

Environmental - Energy Analysis

Developing the Concept (Mass) Model

Coordination Review






Module 2.2

COBie Data Drop at Stage 2






Module 3.1

Discipline-Specific Design Authoring

Model Transmittal

Design Review and resolve identified issues






Module 3.2

Model Federation and Clash Detection

Validate the model






Module 3.3

COBie Data Drop at Stage 3






Module 4.1

Rendering and Visual Production






Module 4.2

4D - Construction Simulation






Module 4.3

5D - Cost Model






Module 4.4

5D - Quantity Take-Off






Module 4.5

Populating the Model with Data






Module 4.6

COBie Data Drop at Stage 4






Module 6.1

Introduction to BIM in FM

COBie Data Drop at stage 6



Clearly understand and convey to others the meaning of Building Information Modelling (BIM) and its impact on the industry and their role in particular
Apply knowledge and understanding of the BIM process and the roles and responsibilities of all parties involved in each phase, to effectively manage a team or project
Understand and convey the differing perspectives of BIM, including exploration of the use-cases around parametric modelling, interoperability and information exchange processes
Describe how to address the interaction and interface challenges faced by project teams and groups
Understand issues that affect collaborative project working including people, process, technologies and trust
Reflect and learn from project experiences to enhance current and future efficacy
There are no requirements for this course.